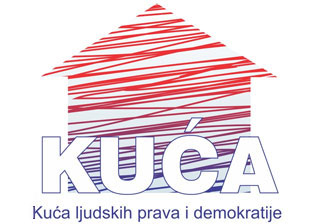 The Human Rights House strongly condemns Editor-in-chief of the Vecernje Novosti Ratko Dmitrović's fascist and anti-Semitic assault at writer Filip David. A personal gesture and intellectual courage of the writer who decently, under the roof of the National Library, distanced himself from the presence of Serbia's President Tomislav Nikolić is the right of a man of letters with repute, regardless whether or not anyone else would have done the same.
What is shocking, however, is editor Dmitrović's barbarian and explicitly anti-Semitic reaction to what the writer actually said.
By "counting his blood cells" Dmitrović acts as his prosecutor and judge at the same time: for him a person of Jewish origin has no right whatsoever to assault "the President of Serbs" who had "spared him his life at the time of Nazi occupation of Yugoslavia." We are reminding editor Dmitrović that Nikolić has been elected the President of all citizens of Serbia rather than Serbs only. We are also reminding all those sharing his views that Filip David is also a citizen of Serbia, entitled to the same rights as all other citizens, including the right to approve or disapprove Tomislav Nikolić's nationalistic and warring track record.
Having published such editorial in the best tradition of Goebbelsian propaganda he has been spreading ever since the Milošević's era and the national television of the time, Dmitrović exposed the internationally recognized writer to lynch by invoking the infamous anti-Semitic and fascist stereotype about "Jewish ungratefulness."
We would like the Serbian government and Premier Aleksandar Vučić to tell us how possibly could one fascist and anti-Semitic journalist – the one never called to account for the hate crime propaganda he was spreading in the 1990s – be appointed the editor-in-chief of a state-run newspaper in Serbia that has opted, at least in words, for a course towards EU. Despite – or perhaps thanks to – his shameful past and unprecedented disgrace he brought to professional journalism, Ratko Dmitrović was appointed the editor of the Vecernje Novosti when the Serbian Progressive Party and Aleksandar came to power. How come that the hate speech, and fascist and nationalistically hued stories this state-run paper has been running almost daily, as well as its entire editorial policy, correspond with Premier Vučić's publicized concern with the rise of the extreme right in Serbia? What actually fuels and feeds extremism in today's Serbia are pro-governmental media, the same media that have been edited ever since 2012 by advocates of the extremist and belligerent policy of 1990s, by the persons who have actually never abandoned warmongering. Ratko Dmitrović is just one of striking paradigms of the Government vacillating, inconsequent European policy, but also of the propaganda misuse of the media.